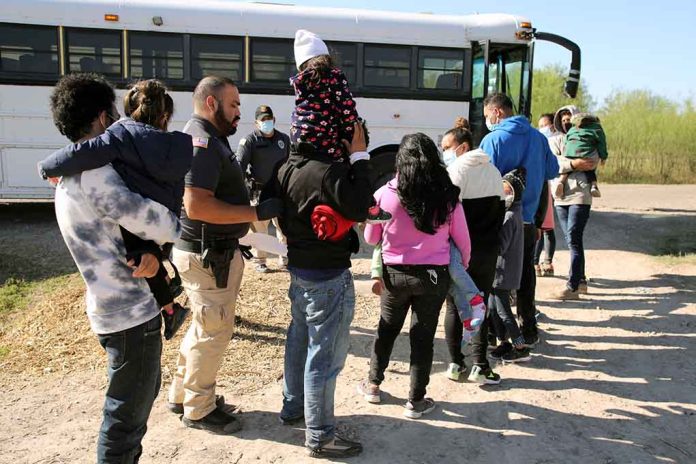 (NewsReady.com) – A group of illegal immigrants has smashed its way out of a bus that was transporting them back to the border; 18 escapees are now loose in El Paso, Texas. Border Patrol sources say the group managed to get loose because the Biden Administration keeps ignoring security policies.
EXCLUSIVE: A group of illegal migrants from Venezuela broke out of a Border Patrol bus Wednesday and are currently unaccounted for in the city of El Paso, Texas

More here: https://t.co/xqpqjMWJuy @dailycaller

— Jennie Taer (@JennieSTaer) March 23, 2023
On March 22, a Border Patrol bus was transporting illegal immigrants from Venezuela, Cuba, and Nicaragua, who were scheduled for deportation under former President Donald Trump's Title 42 legislation. The bus' destination was the Stanton Bridge border crossing, where the illegals would have been expelled back into Mexico. However, in violation of policy, there was only a single agent — the driver — on the bus. As he was operating the vehicle, he couldn't do anything when some of the migrants kicked out an emergency exit hatch and started jumping from the vehicle as it passed through downtown El Paso. Eighteen of them managed to escape before the driver could pull over and secure the bus.
Durango Ayala, the president of the National Border Patrol Council for the El Paso sector, strongly criticized the Biden Administration for allowing incidents like this to happen. A Border Patrol agent, speaking anonymously, slammed the "never-ending disregard to enforce immigration law" and said the migrant surge enabled by Biden is having serious consequences for agents. As numbers rise and processing times extend, the incomers are getting impatient — and they take out their anger on overstretched border staff.
El Paso Border Patrol issued an alert after the bus breakout; the escapees will be arrested if law enforcement manages to locate them. Texas is fighting to control the flood of illegals trying to enter the state. Governor Greg Abbott (R) says Texans are "furious" at the chaos unleashed by Biden's broken immigration policies. In 2021, he launched Operation Lone Star using Texas's own military forces and Department of Public Safety. So far, it's detained over 357,000 illegals and seized enough fentanyl to kill 367 million people. However, the state's hard work is being undermined by federal indifference — and last week's escape is just more evidence that Biden isn't even trying to secure our borders.
Copyright 2023, NewsReady.com