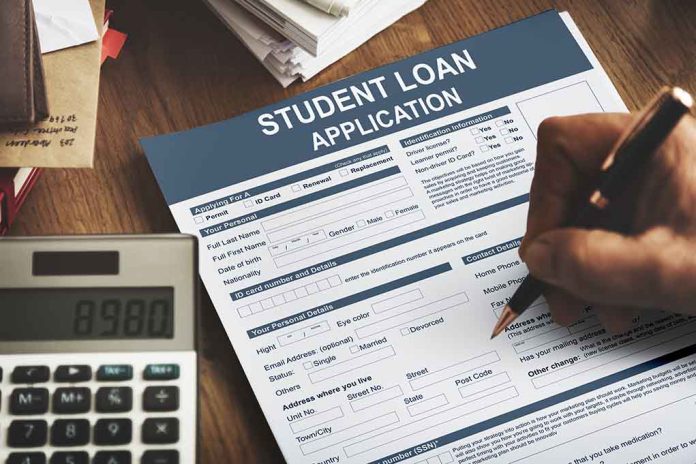 President Joe Biden promised to cancel student loan debt while running for office. 
Americans hold a combined total of more than $1.6 trillion in student loan debt.
The average undergraduate student owes roughly $25,000 when they finish their degree.
The Department of Education is now canceling debt for millions of people.
---
(NewsReady.com) – One of the tenets of the progressive platform is to eliminate student debt, of which Americans collectively hold more than $1.6 billion. President Joe Biden promised he would try to forgive the burden on people if he were elected. Since then, he has implemented a number of policies that make it easier for people to discharge their loans, and now he's taking it one step further.
Millions Will See Relief
On Wednesday, August 24, Biden announced his administration is canceling $10,000 in student loan debt for single people who make less than $125,000 annually or $250,000 for married couples. Those who qualified for Pell Grants while they were in school will receive $20,000 off.
The Department of Education will need to see a person's taxes for the most recent year to determine eligibility. Almost 8 million borrowers will have the amount canceled from their loan balance automatically because those documents are on file already. The administration is going to launch a portal to allow borrowers to provide current financial information. Anyone who wants more information can sign up for updates through it.
In addition to the loan forgiveness program, the president announced student loan repayments are being paused one last time through December 31, 2022. That means borrowers are going to have to start making payments again in the new year. Biden is proposing a rule that will drop the income-driven repayment plan from a threshold of 10% of a person's salary to 5% in the hope that it will reduce the burden on families.
The proposed rule will allow loan balances of $12,000 or less to be forgiven after 10 years of payments, down from 20 years. Also, increase what the Department of Education considers "non-discretionary income" so people who are making 225% under the poverty level won't have a monthly bill.
Concerns About the Program
One of the major concerns Americans have about loan forgiveness is the possibility that it will make the inflation crisis worse. A CNBC survey conducted by Momentive found 59% of those polled are worried about that possibility.
How do you feel about Biden canceling debt for people?
Copyright 2022, NewsReady.com