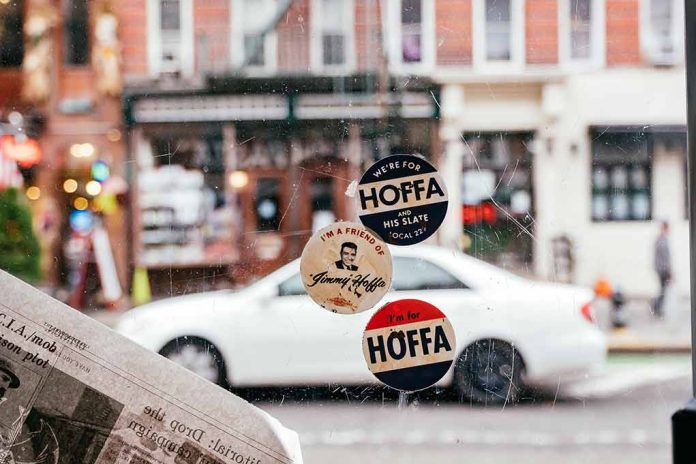 Jimmy Hoffa was president of the powerful Teamsters Union from 1957 to 1971.

Links with organized crime troubled his leadership.
After five years in jail, he tried to regain power, failed—and vanished in 1975.
Rumors say the Mafia killed him.
Now amateur detectives think they know where he's buried.
(NewsReady.com) – The 1975 disappearance of Jimmy Hoffa is one of the great American mysteries. The former labor leader, who was deeply involved with organized crime, vanished as he tried to regain his powerful union position. Most people believe he was likely killed by the Mafia, but no trace of his body has ever been found. Now a team of amateur detectives thinks they know where Hoffa lies.
Whatever Happened to Jimmy Hoffa?
Jimmy Hoffa was the epitome of a powerful but deeply corrupt union leader. Born in Brazil, Indiana, in 1913, by the late 1930s he was a regional leader in the International Brotherhood of Teamsters (IBT). He rose to become its national vice president in 1952, and in 1957, took over as president, a role he held for the next 14 years.
Under his leadership, the IBT was expelled from the AFL-CIO, the largest association of US labor unions, due to his personal unpopularity with other union leaders, but he did manage to negotiate a national contract deal for the employment of his members. However, his whole reign at the IBT was dogged by allegations of criminality.
In 1957, he was charged, but acquitted, of trying to bribe an aide to a Senate committee. In 1963, he was sentenced to eight years for jury tampering and five years for wire fraud, but he wasn't jailed until 1967. Then he was released less than five years into his sentence and immediately tried to regain power from Frank Fitzsimmons, the caretaker president who had been appointed while he was in prison.
Perhaps unsurprisingly, the Teamsters didn't particularly want him back. Hoffa spent the next four years trying to get reinstated as president, in the face of increasing opposition from the IBT itself and several powerful Mafia figures. And then, on July 30, 1975, he left home to meet two Mafia bosses who opposed his campaign—and was never seen again.
Is This the Answer?
No trace of Hoffa was ever found, and in 1982 he was declared legally dead, which he almost certainly was. Over the years, many people have tried to solve the mystery of his disappearance, and several have come up with likely burial sites; for example, he's rumored to have gone into either a landfill in New Jersey or a waste incinerator in Detroit. Now The Case Breakers, a nonprofit that tries to solve "cold" cases, says it's found evidence that pinpoints the union boss's last resting place.
In a November 1 press release, The Case Breakers said a deathbed statement—"a dying police sergeant's scribbled instructions on an ace of spades"—sent  them on a year-long investigation of a Little League field near the abandoned Milwaukee Brewers stadium in Milwaukee, Wisconsin. They claim three witnesses have claimed Hoffa was originally buried somewhere else, but his body was moved to the stadium in 1995 and buried under the third base. That old stadium has now been demolished, and Hoffa's suspected grave is now beside the fence of Helfaer Field, a Little League venue. The Case Breakers have checked the location with ground-penetrating radar but say they couldn't see deep enough because of an "unexpected clay layer." Still, at least they have somewhere to look, and there's always the possibility that this old mystery could be solved at last.
Copyright 2023, NewsReady.com