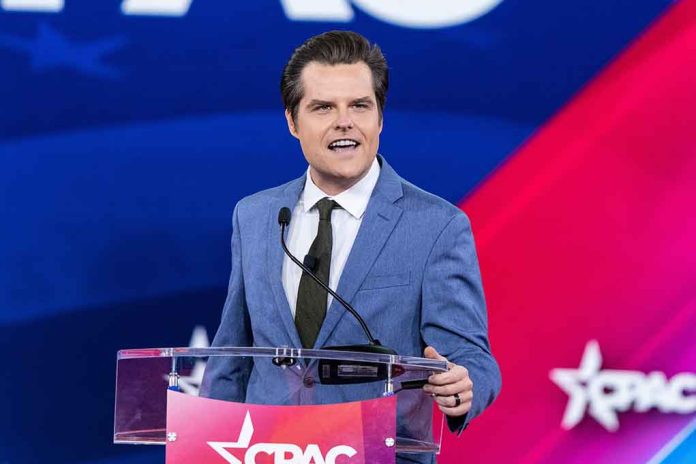 (NewsReady.com) – Rep. Matt Gaetz (R-FL) is one of the biggest names in the GOP, even though he hasn't been in Congress long. Earlier this year, the lawmaker was the ringleader of a group who delayed the election of Rep. Kevin McCarthy (R-CA) for days. He did that all while fighting horrible allegations.
On February 15, The New York Times reported Gaetz's attorneys, Marc Mukasey and Isabelle Kirshner, released a statement informing the public that the Department of Justice has decided it will not charge their client with any crimes. The lawyers said the federal agency "concluded [its] investigation into Congressman Gaetz and allegations related to sex trafficking and obstruction of justice."
Gaetz appeared on Fox News host Laura Ingraham's show to discuss the latest news. The congressman shared a clip of the interview and accused the "Fake News media" of telling lies about him. He went on to say, "They always come for the fighters."
The Fake News media endlessly propagandized my life and told lies about me because I'm effective at impacting legislation.

They always come for the fighters. We all have to watch our back because that's where the target is. pic.twitter.com/GTEyX7Xw2m

— Rep. Matt Gaetz (@RepMattGaetz) February 16, 2023
The investigation began in the final months of former President Donald Trump's administration. Reports indicated the DOJ was looking into whether the congressman paid for a minor to travel across state lines with him and if he had a sexual relationship with her.
According to The Times, the agency was looking into the congressman as part of a broader probe into one of his political allies, Joel Greenberg. The former Seminole County, Florida, tax collector pleaded guilty to trafficking the teenager that was allegedly linked to Gaetz. Upon hearing the news about Gaetz, Greenberg's attorney, Fritz Scheller, claimed there are "two systems" of justice in the country, one for the powerful and one for the average people.
In October, NBC News reported the investigation into the Republican congressman stalled. There was a complete lack of evidence against him, the report indicated. Career prosecutors were allegedly convinced for months that he didn't have anything to do with Greenberg's activities. It seems that reporting has now proven to be true.
Copyright 2023, NewsReady.com