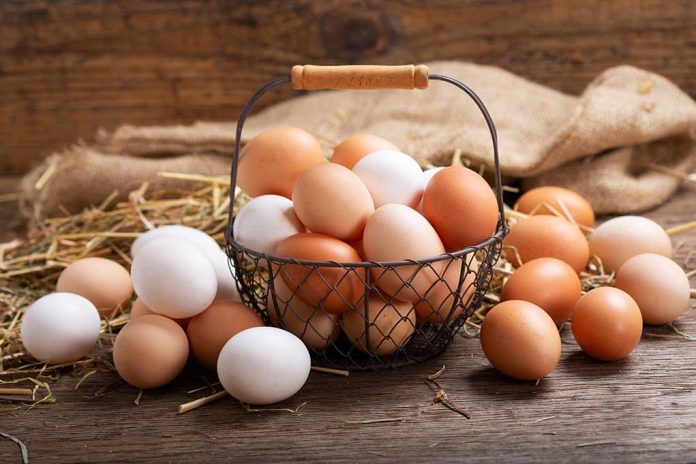 (NewsReady.com) – The cost of eggs has nearly doubled in the last year. It's become so expensive to buy a dozen, parents have joked about coloring rocks for Easter. Now, one store has decided to stop selling the breakfast staple altogether.
On March 14, Dollar Tree confirmed it was going to temporarily stop selling eggs, Reuters reported. The retailer has become a popular destination for shoppers who are feeling the pain of inflation. Most of the items in the store are $1.25, but in some stores, the company has tested its Dollar Tree Plus strategy, which allows some items for $3 to $5 to be sold on their own stand-alone displays.
The store's frozen and refrigerated food section is one of the places where customers can find items for $5 or less. The average price of a dozen of eggs were close to $5 in January. Though prices fell 6.7% in February, Dollar Tree decided the price was still too high for the company to make a profit.
Dollar Tree can't afford to sell eggs anymore. Full story: https://t.co/Jqim4qgNDi pic.twitter.com/igQk1NVFWZ

— FOX 12 Oregon (@fox12oregon) March 20, 2023
Dollar Tree spokesperson Randy Guiler told CBS News the company's "primary price point […] is $1.25. The cost of eggs is currently very high."
The decision only impacts Dollar Tree. The company's other stores, Family Dollar, will continue to sell eggs. Those stores sell items that cost up to $10.
While all groceries have been impacted at some level by inflation, egg prices are especially high. That's because of an outbreak of avian flu that ravaged farms. More than 50 million birds, or about 5% of the total of laying hens, have died in the deadliest outbreak in history.
While the cost has skyrocketed, so have attempts by people to smuggle the product into the US at ports of entry. The San Diego Border Patrol Field Office reported egg seizures are up by almost 400%.
It's not clear when the eggs will return to the store.
Copyright 2023, NewsReady.com