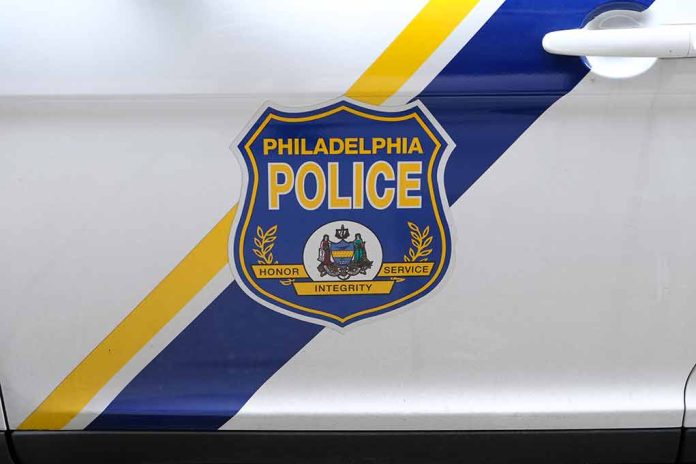 (NewsReady.com) – Police have arrested more than 50 people after an outbreak of organized looting in Philadelphia. A mob targeted multiple stores, including nearly 20 liquor shops. Cops say the pillaging was organized on social media.
On September 26, a judge dismissed charges against a Philadelphia police officer who had been indicted for murder after shooting a driver in August. Following the decision, locals protested — but then criminals used the protest as cover for an outbreak of mass thieving. Police Commissioner John Stanford said the thieves were "a bunch of criminal opportunists," but they were very well-organized opportunists. Stanford said ringleaders used social media to launch their plan, sending mobs to raid dozens of stores across the city.
Thieves targeted locations downtown and in the west and northeast of the city; looters attacked pharmacies, a cellphone store, a hair salon, and 18 liquor stores. In the aftermath of the robberies, retail shops were left with broken windows and ransacked shelves.
As the disorder spread, the Pennsylvania Liquor Control Board closed all of its 48 locations in Philadelphia to protect its staff. A spokesman said none of their employees were hurt in the stores that were robbed, but "some were understandably shaken." A video uploaded to social media shows what appears to be organizers yelling instructions to groups of looters, and police are investigating reports that a "caravan" of vehicles was involved, moving between different locations across the city.
Police responded quickly to the looting, and video taken at crime scenes shows officers chasing and tackling thieves. A District Attorney's office spokeswoman says at least 60 people have been arrested and 30 have already been charged with crimes including burglary and theft. All but three of those detained are adults. Now, retailers are asking serious questions about how long their businesses will stay viable in the face of this kind of crime.
Copyright 2023, NewsReady.com