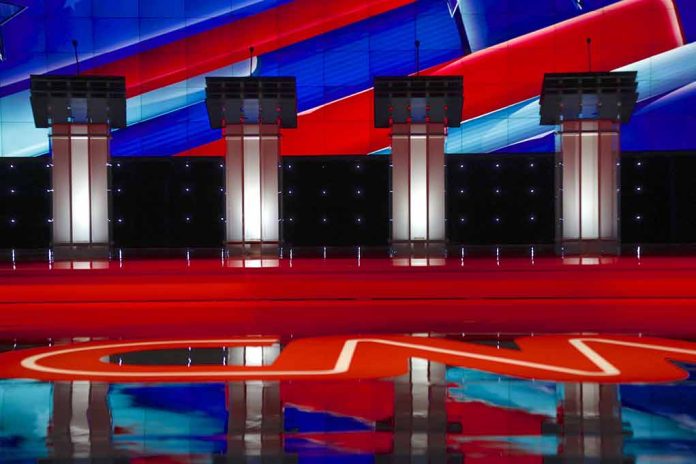 (NewsReady.com) – The viewing data for the third Republican presidential primary debate is out, and it's not good news for the GOP. The numbers are well down from the last debate and even further below the first one. As they go on, it seems that people are losing interest, and that doesn't bode well for the party.
On November 8, most of the hopefuls for next year's GOP presidential nomination met in Miami for their third opportunity to debate each other and show the party grassroots their caliber as candidates. Five of them took part: former UN ambassador Nikki Haley, Florida Governor Ron DeSantis, entrepreneur Vivek Ramaswamy, Senator Tim Scott (R-SC), and former New Jersey governor Chris Christie. Four days later, Scott pulled out of the race, citing low polling numbers. The others still have their sights set on the White House, so this should have been a must-watch debate for likely Republican voters. And yet, just 6.8 million people tuned in. That's significantly down on the nine million who watched the second debate, and just over half the 12.8 million the first one attracted.
So why does nobody seem to care about the Republican debates? Well, there's an elephant outside the room, and that elephant is former President Donald Trump. Trump isn't interested in the debates, and it seems that if he's not taking part, nobody else is interested in them either — because, barring a miracle for one of the other candidates or something happening with one of his several legal cases, it looks like Trump is going to be next year's Republican nominee.
The most popular of the five who took part in the November 8 debate, DeSantis, is, at the time of writing, polling 14.1%; Haley is lagging behind him at 8.7%, and Ramaswamy gets 5.3% support. Trump is backed by 56.6% of likely GOP voters, putting him far above the competition.
Copyright 2023, NewsReady.com