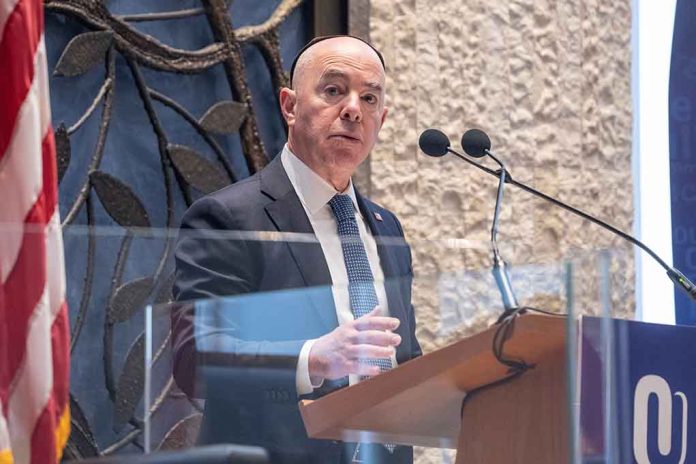 (NewsReady.com) – The immigration crisis at the southern border has plagued President Joe Biden's administration. Republicans believe Homeland Security Secretary Alejandro Mayorkas should be impeached for failing to secure the border. A recent effort to do that was thwarted by members of their own party.
Rep. Marjorie Taylor Greene (R-GA) introduced a measure to impeach the Homeland Security secretary. The congresswoman pushed the measure after a man suspected of smuggling illegal immigrants slammed into a vehicle in Texas, killing eight people. Honduran national Luiz (Luis) Alfredo Mencias-Escobar, 17, who'd previously been ordered to leave the US, tried to run from deputies and collided head-on with an SUV carrying Isabel and Jose Lerma. The Georgia couple lived in Greene's district. Everyone in both vehicles died.
The congresswoman forced a vote on the impeachment measure using a House rule that allowed a single member to bring a measure to the floor. However, Democrats led an effort to send the measure back to the Homeland Security Committee. The measure by the Left made it to the floor and passed, killing Greene's effort to impeach for now.
Eight Republicans voted with Democrats, infuriating Greene and others on the right. One of those lawmakers was Rep. Darrell Issa (R-CA), who served as the chair of the Oversight Committee from 2011 to 2015. Greene mocked Issa on X, formerly Twitter, calling him another word for female genitalia and saying everyone knows "what Darrell Issa lacks," and she posted emojis of multiple tennis balls.
Issa defended his decision, saying Greene lacks "maturity and experience," explaining that "privileged resolutions" are usually brought to the floor by the majority or minority leader and "have not historically been brought by one member." He said they were "ill-prepared" to deal with the motion of impeachment "on short notice on the floor."
The motion to impeach will not go to the committee and could make it to the House floor again, but it's unclear if that will happen.
Copyright 2023, NewsReady.com