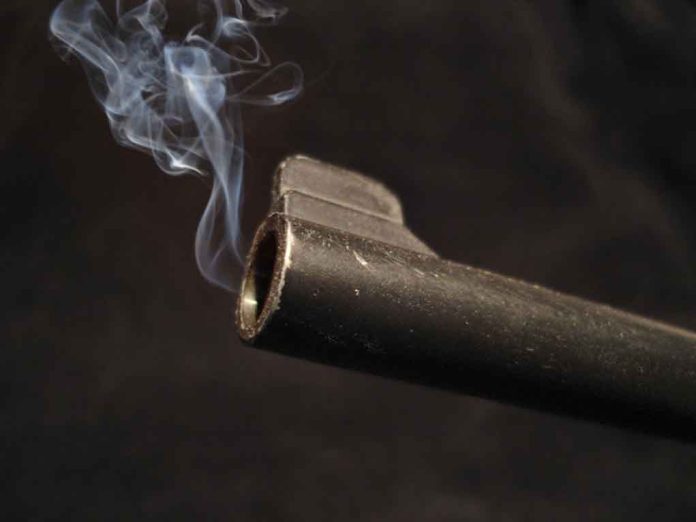 (NewsReady.com) – When people think of the murder capital of the US, cities like Chicago and New York might come to mind. While those cities do experience an inexcusably high number of homicides each year, another place actually takes the sad title: St. Louis, Missouri. That is where a vicious crime recently took place.
On Monday, February 27, just after 10 a.m., a homeless man was sitting on a curb in front of the Globe Building in downtown St. Louis. A viral video filmed by a witness shows another man standing nearby. Suddenly, the man who is standing up pulls out a gun and begins to fidget with it. After a few seconds, he is seen casually aiming the gun at the man on the curb and pulling the trigger.
Police officers responded to the scene a short time later to find the victim with a fatal gunshot wound to the head.
An execution-style shooting captured on camera by witnesses in downtown St. Louis is going viral. https://t.co/bYG6BJAj39

— KMOV (@KMOV) March 1, 2023
According to reports, there was an altercation at a gas station before the shooting. Not many details are known about what exactly happened. KSDK News reported the victim's name is David Saldana, a man who was regularly seen in the area. People who worked near where the shooting occurred described the victim as "a nice, quiet individual."
On Tuesday, police arrested 23-year-old Deshawn Thomas for allegedly killing Saldana. A probable cause statement, viewed by the local news, stated that the suspect shot the victim multiple times in the back while "the man begged for his life."
A spokesperson for Mayor Tishaura Jones (D) claimed she was "appalled by the blatant act of violence committed in broad daylight."
While the mayor is busy being appalled by the violence in the city, it continues to be a major problem. There have been at least seven shootings downtown in less than a month.
Copyright 2023, NewsReady.com