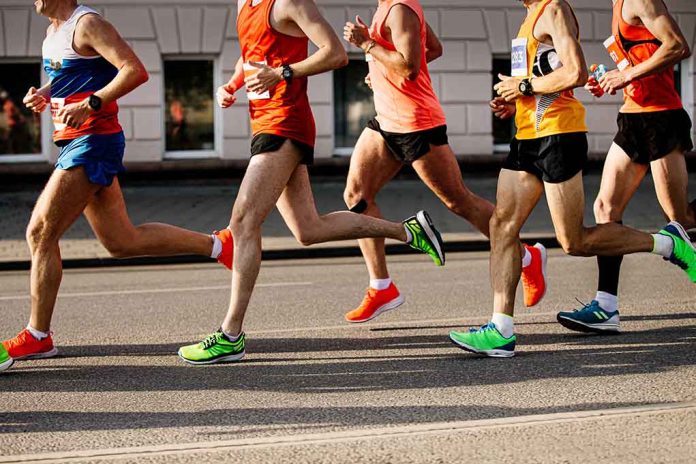 (NewsReady.com) – Marathon participants sometimes train for months to prepare for a race. Many of them take the events very seriously. One ultramarathoner is in trouble for taking a shortcut.
In April, Joasia Zakrzewski, 47, competed in a 50-mile race in Britain from Manchester to Liverpool. She came in third place, but soon after, allegations of using a car surfaced. Tracking data showed that she completed a mile of the race in 1 minute and 40 seconds, a very suspicious time. To put that into perspective, one of the fastest male runners in the world, Usain Bolt, runs a mile in about 2:34.
Officials disqualified her from the race and then referred the case to the governing bodies. The New York Times reported that Zakrzewski explained that she quit the race after injuring her leg and got a ride to the next check-in station. She said she let race organizers know she was done but claimed they encouraged her to finish. Zakrzewski claimed her acceptance of the award for third place was just a "miscommunication." She said when she accepted the trophy in April, she "made a massive error… and should have handed it back."
The Independent Disciplinary Panel of UK Athletics issued a report in October revealing race marshals said they weren't told Zakrzewski got a ride during the race. The governing body for track and field noted that the runner only admitted she'd gotten a lift after the race organizer challenged her time. The report goes on to say that she said she was embarrassed, and she decided that shielding herself from further embarrassment was more important than telling the truth.
The true third-place winner posted a message on X, formerly Twitter, saying she was happy, but it was "really bad news for sportsmanship."
Great news for me 🥉 but really bad news for sportsmanship 😕

The below happened because a fellow competitor cheated.
She travelled in a car for around 2.5 miles of the M2L 50 mile event last week.
After an investigation, she has now been DQ'd, and rightly so. 🧵 pic.twitter.com/H1qkIOvXml

— Mel Sykes (@nuddypants) April 17, 2023
Zakrzewski is now banned from coaching or competing for a year in Britain.
Copyright 2023, NewsReady.com