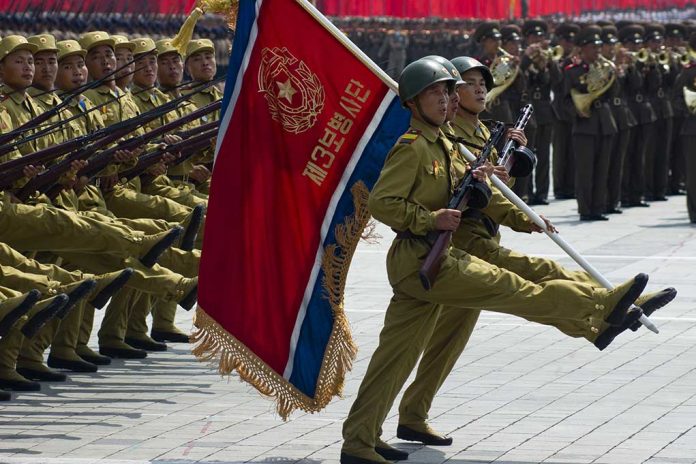 North Koreans live in a government-approved media bubble.
Movies and television shows are strictly controlled. 
Several high school students were recently caught watching "Squid Game."
The man who smuggled the mini-series into the country was sentenced to death. 
---
(NewsReady.com) – North Korea isn't known for being a beacon of freedom in the world. In fact, the country has incredibly harsh laws. People who violate the laws typically spend years in prisons designed to work them to death; sometimes they're just killed outright.
One of the most serious crimes a person can commit is smuggling. North Korean Leader Kim Jong-un has tight control over what his people view. A recent smuggling incident led to a harsh sentence for one man.
Smuggling Incident
Netflix's dystopian, Korean-language "Squid Game" series became the number one hit show of all time on the streaming platform. Within 4 weeks, the series logged 1.65 billion viewing hours. The North Korean government banned the series, presumably because it might resonate with the people in the country. The mini-series depicts a dystopian world where poor people play children's games for cash prizes and those who lose are put to death. According to reports, North Koreans who work in dangerous jobs could relate to the characters.
Despite the government's best efforts to keep the show out of the country, a man reportedly smuggled it in, possibly from China. The man put the series on flash drives and sold them. A student purchased one of the flash drives and seven kids were caught watching the series at school.
Sentences
The man who allegedly smuggled the banned series into the country was given a death sentence by a firing squad. Ironically, in one of the mini-series' games, people are shot to death for losing.
The high school student who purchased the series from the smuggler was sentenced to life in prison. He essentially lost his life. The other kids who watched it will all serve five years of hard labor. The school officials who were working when the series was playing in the school were fired and could be sent to work in mines.
Other Harsh Sentences for Minor Crimes
This isn't the first time the North Korean government has handed down horrific sentences for seemingly minor crimes. In 2016, a court sentenced American Otto Frederick Warmbier to 15 years of hard labor for allegedly removing a political banner from a hotel. He died in North Korean custody. Kim Dong-chul, 62, an American, was sentenced to 10 years of hard labor for speaking out against the government that same year. And there are hundreds more cases just like those.
Copyright 2021, NewsReady.com