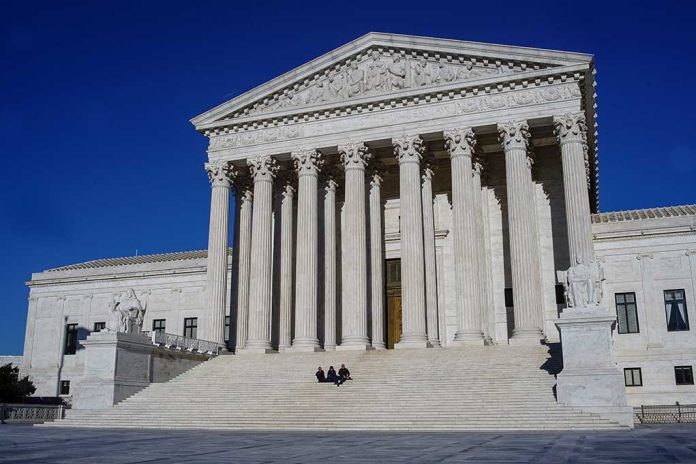 Leftists Radicals Lay Out Plot To Punish The Supreme Court
The Supreme Court overturned federal abortion rights. 
States are now allowed to pass their own laws regarding the procedure without any input from the court. 
Activists took to the streets to protest the decision.
Liberals targeted the conservative justices on the court who issued the ruling.
---
(NewsReady.com) – The Left is furious over the Supreme Court's (SCOTUS) decision to reverse the Roe v. Wade precedent that created federal protection for abortion. As soon as the high court handed down the decision in the Dobbs v Jackson Women's Health Organization, people began issuing threats against the justices. Groups like Jane's Revenge and Ruth Sent Us published the addresses of the members of the court and called for action to be taken against them. A potential assassin even plotted to kill Justice Brett Kavanaugh before turning himself in to the police. But it wasn't just pro-abortion groups calling for action.
Media organizations jumped on the pro-choice crowd's bandwagon. News networks like MSNBC and CNN screeched about the decision. Print media got in on it, too; The New York Times published an opinion from one of its columnists that laid out a plan to punish the court.
NYT Op-Ed
Political analyst Jamelle Bouie wrote an op-ed titled, "How to Discipline a Rogue Supreme Court." He wrote that the high court doesn't "exist above the constitutional system," which means it isn't able to "shield itself from the power of the other branches." Like the legislative and executive branches, he explained that there are also checks and balances to keep the court under control.
Bouie went on to name a number of steps the legislative branch could take to keep the court in check. He said it could increase or decrease the size of the court, which has been done before throughout the country's history. The columnist also suggested lawmakers could impeach and remove the members of the court, strip it of its "jurisdiction over certain issues," or require a supermajority from the court if it wants to overturn a law. Finally, he said Congress could pass legislation that overrides a precedent by the SCOTUS.
Politicizing the Court
Bouie is correct that there are steps the legislative branch can take to dilute the power of the justices or kneecap the Conservatives on the court. The question is whether it would hurt the republic to do so. The US is governed by the Constitution, but at the end of the day, the founding document is upheld by an honor system.
If Democrats politicize the court, they run the danger of creating a constitutional crisis where leaders begin to refuse to abide by the court rulings. What happens then?
Copyright 2022, NewsReady.com