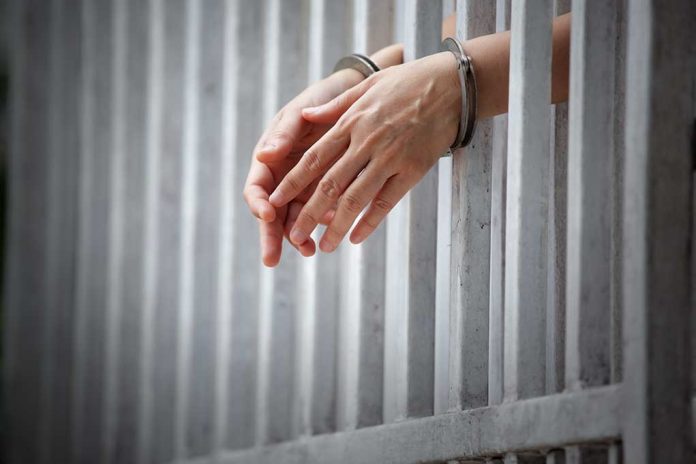 (NewsReady.com) – Jail can be a harsh place for many. Inmates are often forced to defend themselves from attacks. That's what happened to an infamous prisoner at a California jail.
According to KRON 4 News reporter Amy Larson, five inmates allegedly beat up the Los Gatos "Party Mom" Shannon O'Connor while she was in jail. A Statement of Facts outlined what happened on October 24, 2022. O'Connor was inside a dorm room at the Elmwood Correctional Facility when the suspects began assaulting her with their hands and feet. Deputy Frank Thrall identified the women who beat her as Sophia Vigil, Danielle Chavez, Erika Amaya, Anita Quiroz, and Marjaana Gardea.
Court documents reveal 5 female inmates allegedly attacked the Los Gatos "Party Mom" Shannon O'Connor in jail. The beating lasted 16 seconds before deputies broke it up. The 5 inmates will be arraigned for assault later this week. @kron4news pic.twitter.com/NlgPefzK5A

— Amy Larson (@AmyLarson25) March 6, 2023
The deputy said the assault lasted for 16 seconds, and O'Connor did not "strike or threaten the suspects during the incident." The five women were indicted for the assault.
O'Connor is currently in jail awaiting trial on 39 counts, including endangering or injuring the health of a child and sexual battery. The 47-year-old was arrested in 2021 for allegedly throwing booze-filled ragers for underage teenagers. The woman reportedly met the minors through social media and through her children, who attended a local high school. Teenage girls attended the parties and accused the "Party Mom" of watching as boys sexually assaulted them while they were intoxicated. The parties took place at a vacation rental in Santa Cruz, her Los Gatos mansion, and a vacation home in Lake Tahoe. She was the only adult at the events, and prosecutors said she made the children swear they would not tell what was happening.
O'Connor held the parties over an eight-month period, according to reports. Her husband didn't know what was happening, but later filed for divorce. KRON 4 reported her ex said she's a "menace to society" and needs to remain locked up because she would "break the law again."
Copyright 2023, NewsReady.com