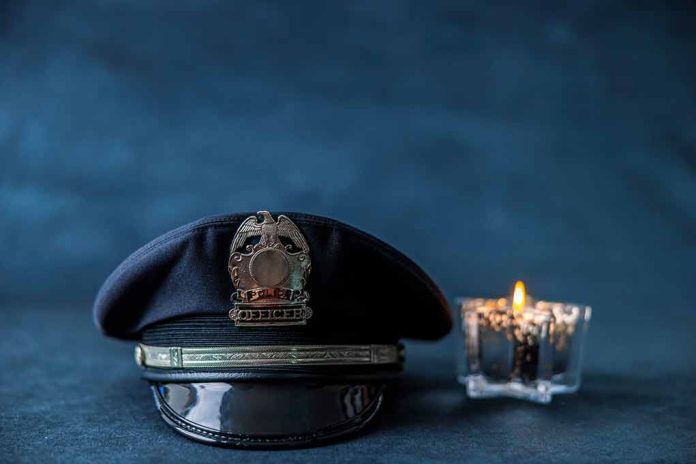 (NewsReady.com) – Every time a law enforcement officer leaves for work, there's a possibility they won't come home. Still, they serve their communities each and every day. Sadly, an officer in New Mexico lost their life while on the job.
On Monday, July 17, the Alamogordo Police Department announced the death of Police Officer Anthony Ferguson. According to the department, the officer responded to the scene of an accident the previous Saturday. The suspect, Dominic De La O, fled on foot after the crash, and Ferguson pursued him.
During the chase, the suspect allegedly pulled out a shotgun and shot Ferguson in the face. Another officer returned fire and hit the suspect in his leg. The 26-year-old was taken to the hospital and treated for his injury.
After Ferguson was shot, emergency responders airlifted him to a trauma center. On Sunday night, he succumbed to his injuries.
The #FBI sends our condolences to the family, friends, and colleagues of Police Officer Anthony Ferguson. He served with the Alamogordo Police Department in New Mexico for 11 years. pic.twitter.com/mfJkfnkX4W

— FBI (@FBI) July 18, 2023
District Attorney Scot Key stated the alleged killer was in jail on a no-bond warrant, so he would not be able to get out of jail.
According to reports, the suspect was involved in a previous shooting with law enforcement officers in January. Police tried to arrest him on multiple warrants when he fled the scene on foot. A fight broke out as the officers attempted to take the suspect into custody. De La O reportedly pulled out a handgun. One of the officers fired his service weapon, hitting the suspect.
De La O was treated for his injuries in that incident as well. It's not entirely clear why he was allowed to roam the streets after the first police-involved shooting.
The DA's office has stated that the suspect will likely be charged with first-degree murder in the case of Officer Ferguson. The police officer is survived by two children, his parents, siblings, and a grieving community.
Copyright 2023, NewsReady.com