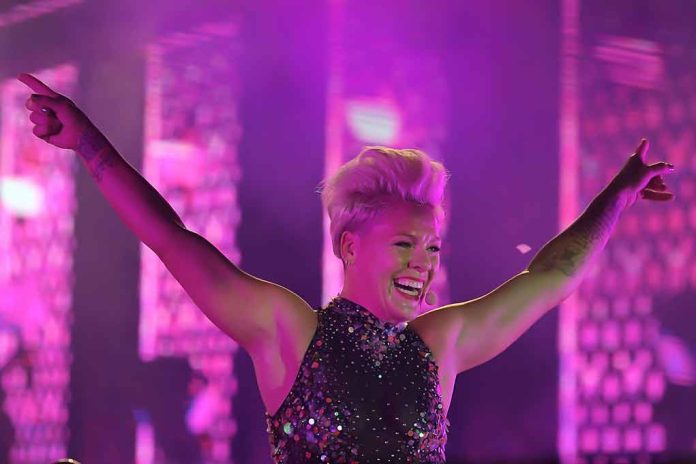 (NewsReady.com) – Book banning has become an issue in some states around the country, including Florida. The practice has angered many who say it's an infringement on rights. A singer has now taken matters into her own hands.
On November 13, PEN America announced it had teamed up with P!nk (Alecia Hart) and Books & Books to give away 2,000 banned books during her tour stops in Florida. The singer confirmed the plan, saying that the ones she's distributing were special to her throughout her life and gave her joy. She said that she wasn't willing to watch as some books were prohibited in schools and thought it was awful to watch authorities target those that showcase diversity, LGBTQ+, race, and other important issues.
P!nk went on to say that the US has made many steps toward equality and doesn't want to see a reversal of all the progress the country has made in that direction.
Today, singer-songwriter and global pop icon P!nk announced she will team up with the free expression organization PEN America and Florida bookseller @BooksandBooks to give away 2,000 banned books at her upcoming concerts in Florida. https://t.co/vbF2culNkt

— PEN America (@PENamerica) November 13, 2023
The singer's concerts were held in two venues in South Florida on November 14–15. She gave away four books that appeared on PEN America's Index of Banned Books. "The Hill We Climb," by Amanda Gorman, "The Family Book," by Todd Parr, "Beloved," by Toni Morrison, and Reshma Saujani's "Girls Who Code" were given away to eager fans.
Kasey Meehan, the director of PEN America's Freedom to Read Program, said the organization was "thrilled" to work with the pop star on an "important cause." She insisted that all kids deserve to have "access to literature that reflects their lives" and blamed "[r]ampant censorship" for making it impossible for kids to "see themselves in books and learn about the world and its history."
P!nk isn't the only superstar who has spoken out against book bans. In September, artists across all forms of entertainment, from Levar Burton to Ariana Grande, signed a letter stating they were "horrified by the threat of censorship" and didn't believe it would end there. They said it was inevitable that those "regressive, suppressive ideologues" would start focusing on "other forms of art and entertainment" to marginalize people of color and LGBTQ+ Americans.
Copyright 2023, NewsReady.com