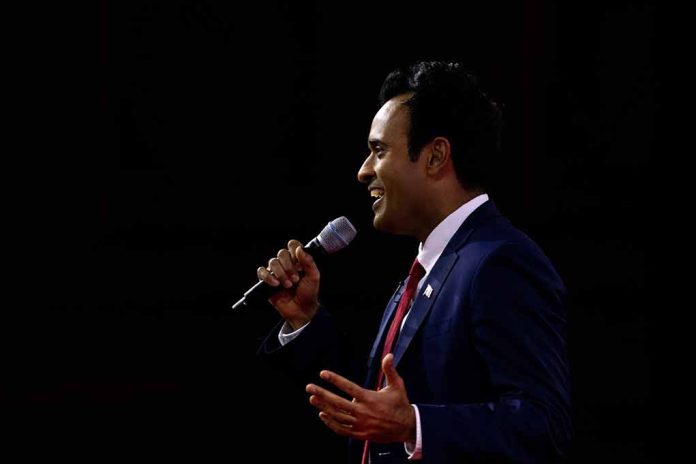 (NewsReady.com) – Vivek Ramaswamy had a moment in the spotlight after the GOP debate. He rose in popularity among Conservatives, though the vast majority are still on former President Donald Trump's train. Recently, the tech-millionaire attacked federal workers with a new campaign promise.
On September 13, Ramaswamy gave a speech in Washington, DC, at the America First Policy Institute headquarters. He told the attendees he would put his "executive authority" to use "to shut down redundant federal agencies and to reorganize the federal government accordingly." The techie went on to say that he would debunk "myths" about what powers the president has when it comes to restructuring bureaucracy in DC.
Ramaswamy promised to target the Department of Education, FBI, and ATF, agencies often criticized by Conservatives. He also said he would zero in on the Food & Nutrition Service (FNS), which handles food stamps and child nutrition programs across the country in order to reduce food insecurities in America. Ramaswamy also takes issue with the Nuclear Regulatory Commission. Congress created the agency in 1974 to protect public help when it's related to nuclear energy.
The Republican primary candidate said he intends to fire 75% of the federal workforce. To put that into perspective, the federal government employs over 2 million civilians. The majority of workers, more than 70%, work in the national security sector. If Ramaswamy went through with his plan, he'd be cutting 1.5 million jobs, and forcing those workers into the unemployment line. He didn't mention how he would address the issue of the massive addition to unemployment.
The conservative went on to say he would target regulations next, calling them a "wet blanket on the US economy." He said his plans are an effort to radicalize the government the way he believes the Founding Fathers did. He thinks the Supreme Court would support his decision to fire 1.5 million people.
Copyright 2023, NewsReady.com