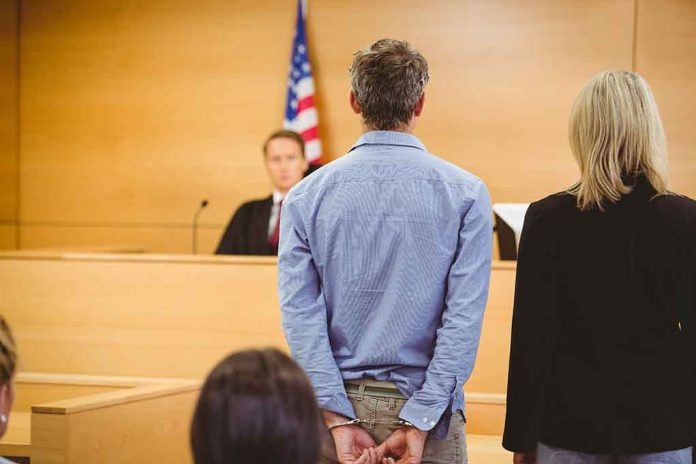 (NewsReady.com) – Over the last 30 years, prosecutors have used rap lyrics against artists in hundreds of criminal cases. It's so common that the American Bar Association has warned against doing it, citing possible First Amendment issues. Recently, a defendant flipped the script and tried to use his own lyrics at trial.
On November 7, a New Hampshire jury convicted Dale Holloway of attempted murder, first-degree assault, simple assault, possession of a firearm, and second-degree assault. The 41-year-old claimed he was insane when he shot Bishop Stanley Choate and the bride, Claire McMullen, during a wedding in 2019. Both survived. He also hit the groom, Mark Castiglione, in the head.
The shooting took place just two weeks after his stepfather, a pastor at the church where the wedding was held, was killed by the son of the groom. The son was later convicted of murder and sent to prison.
Holloway acted as his own attorney during the trial. A day after he was found guilty, the jury heard evidence to determine whether or not he was insane. He played his rap music for jurors, insisting that it proved he was hearing voices from demons. He said one of the voices in his head was from Satan, telling him to carry out the shooting.
Holloway claimed the bishop and the groom's son intended to stomp on his stepfather's grave. He told the jury the proof was that the wedding was held on the same day as his stepdad's celebration of life.
Patricia Garcia, Holloway's mother, was the last person to testify in the insanity phase. She said that her son was a "hard-headed, smart child" who suffered while he was growing up because of violence in the neighborhood. Holloway said that he was always paranoid growing up and that he was mentally ill for years.
The jury didn't buy any of it and determined he was sane at the time of the shooting.
Copyright 2023, NewsReady.com