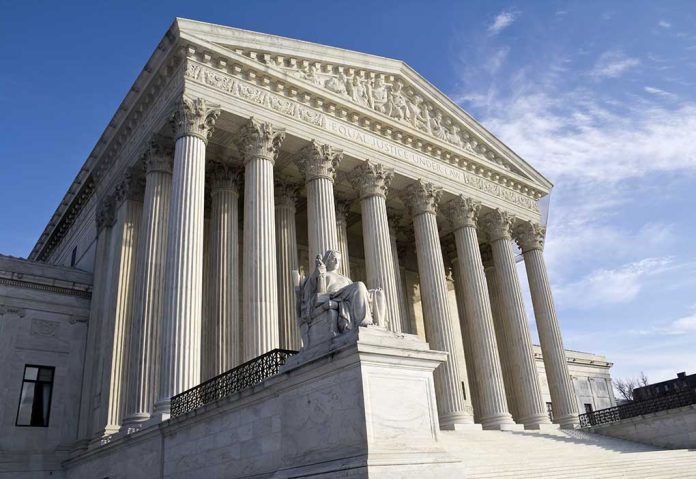 Protestors Heckle the Supreme Court
(NewsReady.com) – It's been just over four months since the Supreme Court (SCOTUS) overturned Roe v. Wade and eliminated federal abortion protections. In that time, dozens of clinics have closed around the country, and multiple states have eliminated the procedure. That has led to protests across the US, but recently three activists took their grievances straight to the justices.
On Wednesday, November 2, the justices were listening to oral arguments in Bittner v. United States. The case wasn't particularly controversial as it was about a federal banking rule. According to SCOTUSblog, the justices appeared to be in a good mood that morning. A few minutes into oral arguments, a woman stood up and shouted, "I respectfully rise to denounce Dobbs!" She then yelled out a reminder to women to vote.
SCOTUS police escorted the woman out of the courtroom. A few moments later, another heckler rose, and then a third. Both of them also shouted about abortion rights too.
Three supporters of abortion rights interrupted the court's oral argument today to protest the Dobbs decision. @AHoweBlogger was there and has the story: https://t.co/aZ0GQxXqua

— SCOTUSblog (@SCOTUSblog) November 2, 2022
Interruptions in the court are pretty rare, and the last time police had to remove hecklers was in 2015. At that time, a protester shouted at the justices about campaign financing. This October was the first time since the pandemic that the court was open to the public for oral arguments.
Supreme Court Spokesperson Patricia McCabe identified the women as Nicole Elizabeth Enfield, Emily Archer Paterson, and Rolande Dianne Baker. They were charged with trying to influence justices and also with a crime that prohibits outbursts in the high court.
Copyright 2022, NewsReady.com