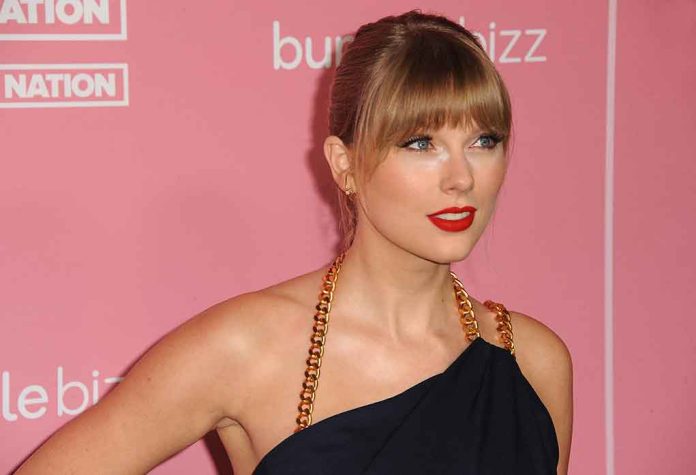 (NewsReady.com) – Singer Taylor Swift is currently performing shows around the country on the Eras Tour. More than 2 million people managed to snag tickets for the highly-anticipated concert series, where she performs for more than three hours. At a recent event, the singer defended one of those fans.
On Saturday, May 13, Swift performed at the Lincoln Financial Field in Philadelphia. During her rendition of her hit song, "Bad Blood," she stopped singing to yell at a security guard. A video of the incident shows the singer pointing to someone and yelling, "She's fine!" She then resumes singing, only to stop again and shout, "She wasn't doing anything." Finally, Swift yelled, "Hey! Stop!"
Taylor Swift defends fan from a security guard during 'Bad Blood' at her Eras Tour.

— Pop Base (@PopBase) May 14, 2023
The woman Swift was reportedly talking about when she was shouting about posted about the incident later on TikTok. According to the woman, whose name is Kelly, the guard spent the evening harassing her group. She explained that every time they did anything, he would shout.
Kelly says Swift noticed the guard was bugging her while she was having fun; that's when the singer yelled. After the incident, the guard was allegedly escorted out, and someone from the Grammy winner's team offered her and her friends more tickets to another night. Kelly said it wasn't a "big crazy thing," she explained that "it was just a bunch of girls having a good time," and the guard didn't seem to like that.
The fan Taylor Swift stood up for against a security guard at last night's #ErasTour show in Philadelphia reveals that Swift had the guard escorted out.

She also reveals that Swift gave her and some friends free tickets to tonight's show. pic.twitter.com/ktNztEJgVV

— Pop Crave (@PopCrave) May 14, 2023
Swift is one of the best-selling artists of all time. She has recorded 10 new studio albums throughout her career and re-recorded two others. She has sold roughly 114 million albums worldwide. When the tickets went on sale for the Eras Tour, they sold out in seconds.
Fans arrive at Swift's concerts hours early and tailgate before the show opens. They spent hours in line to purchase merchandise before the Philadelphia shows.
Copyright 2023, NewsReady.com