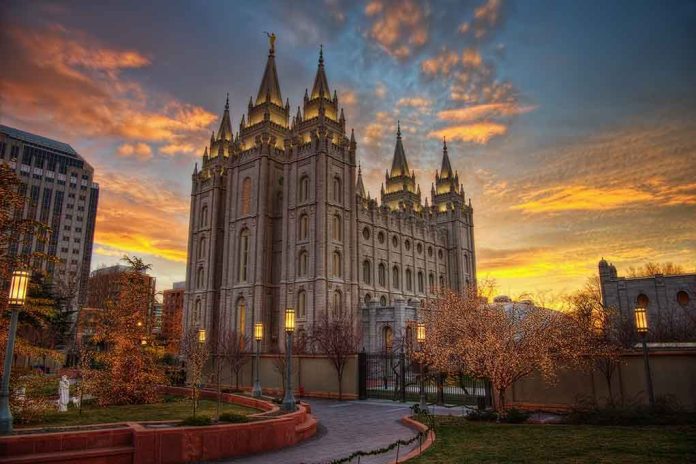 The Mormon Church boasts over 17 million members worldwide.

Senator Mitt Romney (R-UT) is a member of the Church of LDS. 
M. Russell Ballard has served as the second highest-ranking leader since 2018. 
Ballard died on November 12.
(NewsReady.com) – The Church of Jesus Christ of Latter-day Saints (LDS Church) is one of the largest religious organizations in the United States. There are nearly 7 million Mormons in the US and Canada. Salt Lake City, Utah, is the home of the church's headquarters, though it was founded in Western New York in 1830. While it's not an old Christian denomination, it is powerful and has now spread throughout the world.
Marvin Russell Ballard is one of the men who helped with that global expansion. Recently, he passed away at 95 years old.
A Life Well Lived
Ballard was born in Salt Lake City in 1928. He grew up in the area and attended the University of Utah. He was the grandson of LDS apostles Hyrum M. Smith and Melvin J. Ballard and a descendant of the church's founder, Joseph Smith. From 1948 to 1950, he served as a missionary in England, where he was a counselor in the mission presidency. In 1951, he married Barbara Bowen, and the two went on to have seven kids, including five daughters and two sons.
When he was about 46 years old, in 1974, Ballard was president of the Toronto Mission in Canada. In 1976, he was called to serve as a member of the First Quorum of the Seventy. While serving in that position, he trained and supervised other church leaders in the geographic regions assigned to him.
From February 1980 to October 1985, Ballard served as a member of the Presidency of the Seventy, where he oversaw the Quorums of the Seventy. He then became an LDS Church Apostle, serving in the Quorum of the Twelve Apostles.
As he moved up the ranks of the LDS Church, he was also a successful businessman and a member of the US Army Reserve. In 2018, Ballard became acting president of the Quorum of the Twelve Apostles after the death of Thomas S. Monson.
New Day
On November 13, the LDS Church announced Ballard had died the prior evening. His death came after he was released from the hospital after a brief stay.
Search President Russell M. Nelson spoke kindly of Ballard in the statement, saying he was never "indecisive" and knew how the Lord's lessons "could be applied in one's personal life and bring joy and happiness."
The church has not named Ballard's replacement yet. That will likely happen in April.
Ballard is survived by his wife, seven kids, 43 grandchildren, 105 great-grandkids, and one great-great-grandchild.
Copyright 2023, NewsReady.com