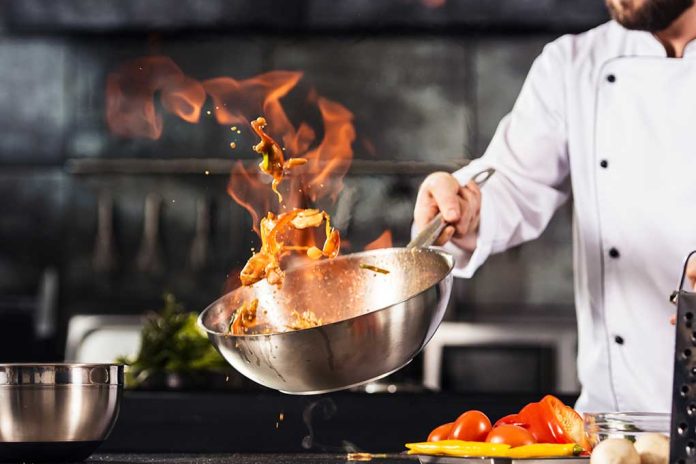 Chef Sets up Operation To Feed Hurricane Ian Survivors
(NewsReady.com) – Hurricane Ian hit Florida as a Category 4 hurricane, and the damage is indescribable. A week after the eye made landfall, thousands of people are still without electricity, and many residents have completely lost their homes. Fortunately, there's no shortage of help for those who were impacted.
Fritz Caraher, 44, is one of many stepping up to help those who need it. The musician and chef set up in a distribution center almost immediately after the storm in Fort Myers and got to work. He began cooking for hundreds of residents, making chicken, pork chops, rice, and whatever else he had to feed the hungry folks. Eventually, about 1,000 people were eating his hot meals.
Chef and musician Fritz Caraher, 44, is cooking up pork chops, chicken, vegetables and rice for anyone whose stomach may not be full. https://t.co/B2QE9jVkJ0

— Yahoo News (@YahooNews) October 3, 2022
Caraher isn't the only one who is feeding the people in the state. In Sarasota, one of the most popular high-end restaurants in the city, Michael's on East, partnered with celebrity chef José Andrés' nonprofit World Central Kitchen to feed those in Southwest Florida who were impacted. They made roughly 15,000 hot meals as of Monday, October 3.
In an interview with the Sarasota Herald-Tribune, co-founder Michael Klauber called Andrés' nonprofit "an amazing organization," and the celebrity chef is "the epitome of what giving back can be."
The chef started World Central Kitchen after the 2010 Haitian earthquake. To date, it has provided 200 million meals around the globe.
Copyright 2022, NewsReady.com