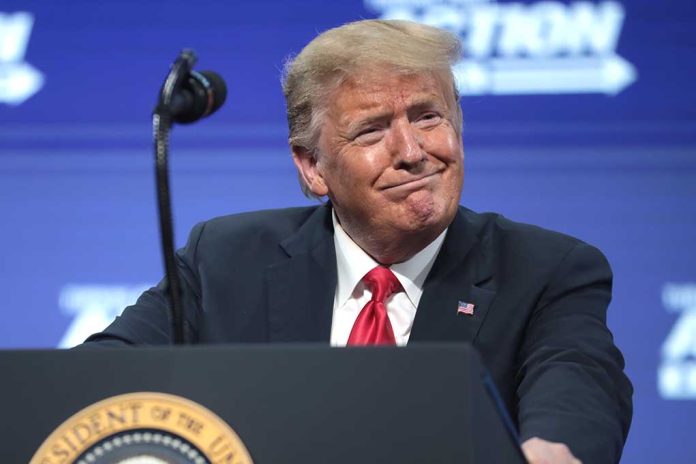 Trump LIZ CHENEY News – Rivalry HEATING Up!
(NewsReady.com) – One of the lawmakers on former President Donald Trump's political hit list is Rep. Liz Cheney (R-WY). The congresswoman has been one of his most vocal opponents since the January 6 incident on Capitol Hill. Recently, the 45th POTUS stepped up his campaign to oust her.
On May 28, Trump attended a rally to support Harriet Hageman, one of the Conservatives who are trying to unseat Cheney. Business Insider spoke to voters outside of the event in Casper, Wyoming, and many of them echoed the former president's dislike for former Vice President Dick Cheney's (R) daughter. One man, 71-year-old Dee Lubeck, told the reporters he was going to vote for Hageman even if he had to "crawl to do it."
At the event, Trump called the Cheneys "die-hard globalists and warmongers" who have spent decades dragging Americans into war.
"The Cheneys are die-hard globalists and warmongers who have been plunging us into new conflicts for decades."

Donald Trump rips Liz Cheney at the #SaveAmerica rally in Casper, Wyoming. #TrumpRally

MORE: https://t.co/icM1vd61Au pic.twitter.com/Lcool7idUB

— Newsmax (@newsmax) May 28, 2022
Cheney, who voted with him more than 90% of the time, blamed Trump for the events that unfolded on January 6. The congresswoman was so vocal about her animosity toward him that Republicans stripped her of her leadership role within the party. Since then, Cheney has joined Speaker of the House Nancy Pelosi's (D-CA) select committee to allegedly investigate the events that occurred at the Capitol. Her grudge against the former president just might cost her her job.
Copyright 2022, NewsReady.com