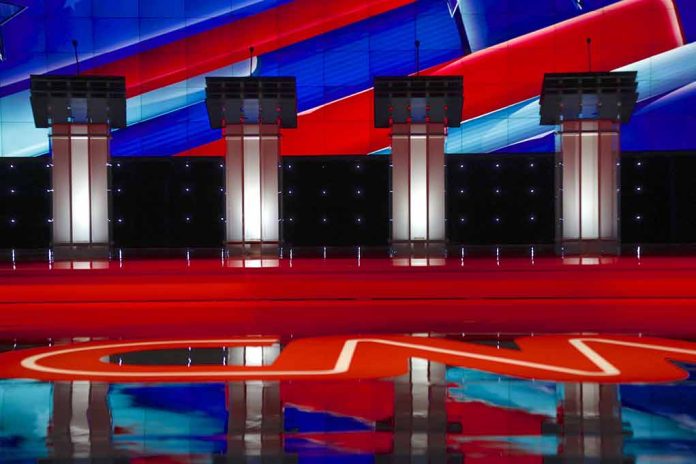 (NewsReady.com) – Former President Donald Trump is not afraid to skip a debate, he did it the first and second time he ran for the White House. He has said he might also sit the first debate out this time. However, he has reportedly started negotiating with Fox News.
US Attorney Jack Smith announced a federal grand jury handed down an indictment for Trump on August 1. Shortly after he learned he was indicted for the third time, the former president had dinner with Fox News executives at his golf club in Bedminster, New Jersey.
The former president met with Fox News CEO Suzanne Scott and President Jay Wallace to discuss the upcoming primary debates that the network will be hosting. The dinner was scheduled before the news broke, but he didn't cancel it, according to a scoop by The New York Times. The dinner was reportedly cordial, despite the 45th president's repeated attacks on the network he once loved.
Scott and Wallace allegedly asked Trump to reconsider his public vows to skip the first debate. A source familiar with the conversation claimed the executives appealed to his ego, telling him he does well when debating and at center stage. The former POTUS reportedly said that he would take their appeals into consideration. Steven Cheung, his spokesperson, refused to answer questions about the dinner, telling the NYT that it was a "private meeting."
During the 2015 debates, Trump outperformed his GOP opponents repeatedly. He clashed with his fellow candidates and the moderators. Though political pundits regularly criticized his performance, average GOP voters seemed to appreciate him, judging by the fact that he won the party nomination.
In a recent interview with Breitbart News, Trump said he believed the debates won him the 2016 Republican nomination and the general election against Hillary Clinton. However, he also said he doesn't think he wants to deal with the "hostile network."
Copyright 2023, NewsReady.com