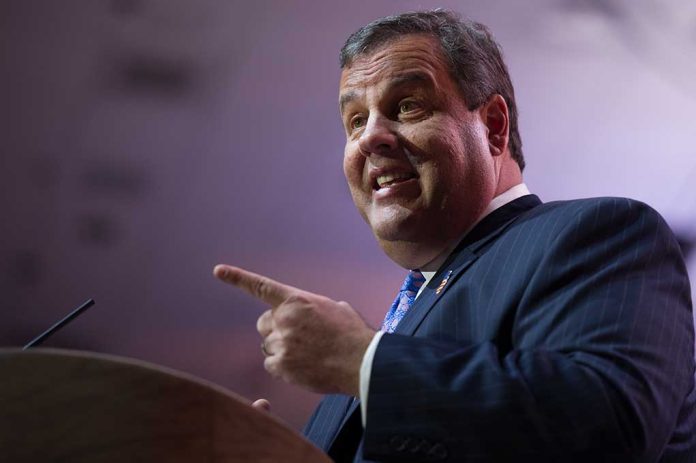 Chris Christie called Trump "Donald Duck" because he ducks debates.

Trump gave a speech in Detroit to nonunion auto workers.
Nikki Haley attacked Vivek Ramaswamy.
Trump didn't show up for the debate, but political experts believe he won it anyway.
(NewsReady.com) – On September 27, seven GOP candidates headed to the Ronald Reagan Presidential Library in California. Former President Donald Trump wasn't one of the attendees. He has decided to skip the debates because he's so far ahead in the polls. That meant the others on the stage had the opportunity to use the event as a moment to shine and attack the frontrunner's policies without him being there to respond.
One candidate used that to call the former president a bizarre name.
A Swing and a Miss
During the debate, former New Jersey Governor Chris Christie attacked Trump for his refusal to attend the events. Instead, the former president gave a speech in Detroit that night at a nonunion car plant.
Christie tried to address his former friend directly, by looking into the camera and saying, "Tell you, Donald, I know you're watching. You can't help yourself." Christie accused Trump of "ducking these things" because he's afraid of defending his record as president. The ex-governor then tried to land a joke that many people are calling cringeworthy.
"We're going to call you Donald Duck," Christie stated.
Journalist Ian Miles Cheong posted a clip of the moment on X, formerly Twitter, and wondered how many times Christie practiced the line.
How many times did Chris Christie practice his Donald Duck speech in the mirror this morning? pic.twitter.com/q1dywWKJvD

— Ian Miles Cheong (@stillgray) September 28, 2023
Conservative Matt Whitlock shared a GIF of a football player fumbling a ball at the goal line, saying the former governor had a "solid moment" but the GIF represented the Donald Duck insult.
Christie having a solid moment but ending it with his "Donald Duck" line. pic.twitter.com/sf4wNKQgqn

— Matt Whitlock (@mattdizwhitlock) September 28, 2023
Other Memorable Moments
Florida Governor Ron DeSantis (R) tried to launch an attack on Trump during the event, as well. He said the former president "is missing in action" because he wasn't on the stage. DeSantis went on to say Trump should have been there because he owes it to Republican voters to "defend his record where they added $7.8 trillion to the debt that set the stage for the inflation" the country is dealing with now.
Trump did add $7.8 trillion to the debt and inflation did begin increasing at the end of his term, but he also passed massive tax cuts for corporations and had to deal with the national health crisis.
Nikki Haley had a couple of moments at the debate too. She wasn't attacking Trump, though; she went after Vivek Ramaswamy. The former South Carolina told the tech millionaire that she feels "a little bit dumber" every time she hears him speak.
"Honestly, every time I hear you I feel a little bit dumber for what you say." —Nikki Haley to Vivek Ramaswamy as he tries to interrupt her #GOPDebate pic.twitter.com/8dhPso1RSL

— Pod Save America (@PodSaveAmerica) September 28, 2023
At the end of the debate, political experts largely agreed that even though Trump wasn't there, he still walked away the winner.
Copyright 2023, NewsReady.com