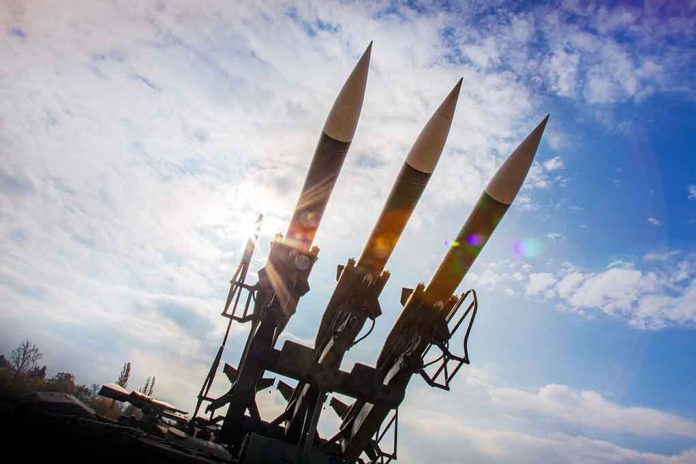 (NewsReady.com) – The United States recently began supplying Ukraine with longer-range missiles, as part of an effort to accelerate the fight and put an end to the war. The weapons allow Ukrainian soldiers to attack Russia from across the battlefront, which could help them turn the tables. They just used the improved technology for the first time to take Russia by surprise.
The strikes, dubbed "Operation Dragonfly," occurred on Tuesday, October 17, hitting two Russian airfields. POLITICO reports that Ukrainian forces were able to take out an ammunition warehouse, nine military helicopters, and an anti-missile aircraft system. Both targets, one in Zaporizhzhia and the other in Luhansk, were in occupied Ukrainian territories.
President Joe Biden announced the authorization for the weapons, which the administration had been hesitant to send, during a meeting with Ukrainian President Volodymyr Zelenskyy on September 21. Critics say the US should have provided the technology earlier, but others have feared that too much help on the enemy lines might provoke Russia. The Associated Press indicates that the missiles have shorter ranges than their maximum capability — again because the US is fearful of treading too heavily on Russia's war. The projectiles, an early MGM-140A model, can strike targets up to 100 miles away.
Fighting continues to ravage numerous Ukrainian towns including Lyman, Kupyansk, and Avdiivka. Local troops have been struggling to push back the enemy lines and take back lost territory, though efforts have been slow. The New York Times reports that roughly 70,000 Ukrainians and 120,000 Russian troops have died so far in the war, with hundreds of thousands more have been injured, although estimates for the former have been difficult because of poor reporting. Ukraine currently has about 500,000 soldiers, but Russia has 1,330,000 among its forces counting mercenaries from the Wagner group, leaving Kiev grossly outnumbered as the war rages on with no end in sight.
Copyright 2023, NewsReady.com