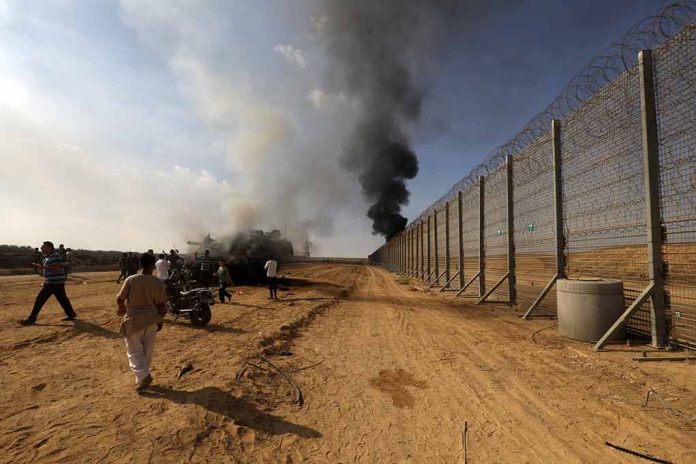 (NewsReady.com) – Israel has been at war with Hamas for nearly two weeks, following an October 7 surprise attack. The terrorist organization reportedly planned its blitz for months or years before massacring approximately 1,000 people, including more than two dozen Americans. A US delegation traveled to the Middle Eastern nation amid the attacks and had to run for cover.
On Sunday, October 15, Senate Majority Leader Chuck Schumer (D-NY) was in Tel Aviv, Israel, with a delegation that included Senator Mitt Romney (R-UT). The Democratic lawmaker posted a photo of himself, Romney, and others inside a small room. He said they were rushed to a bomb shelter because Hamas fired rockets into Israel. The senator pointed out that they experienced something Israelis go through all the time. Schumer is the first Jewish Senate majority leader and the highest-ranking Jewish person in the history of the US government.
While in Tel Aviv today, our delegation was rushed to a shelter to wait out rockets sent by Hamas. It shows you what Israelis have to go through. We must provide Israel with the support required to defend itself. pic.twitter.com/wS3kq6xFVJ

— Chuck Schumer (@SenSchumer) October 15, 2023
During a press conference, the senator said they were rushed into a bomb shelter for a second time. A spokesperson for Schumer said the delegation took the trip overseas because they wanted to show America's "unwavering support for Israel."
The majority leader promised the Senate was going to lead the effort to ensure Israel has what it needs to fight the terrorists. The upper chamber has floated an aid package that contains money for Taiwan, Ukraine, and Israel. It would also provide more money to secure the US-Mexico border.
During their trip to Israel, the senators met with a number of officials, including Prime Minister Benjamin Netanyahu and President Isaac Herzog. Opposition leader Benny Gantz also met with the delegation. Netanyahu and Gantz agreed to form a unity government in the wake of the attacks on their country. Instead of fighting with one another, they are focusing their attention on the enemy who killed their loved ones for sport.
Copyright 2023, NewsReady.com